Self-* Storage Systems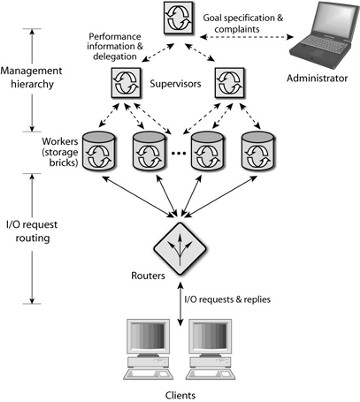 Human administration of storage systems is a large and growing issue in modern IT infrastructures. We are exploring new storage architectures that integrate automated management functions and simplify the human administrative task. Self-* storage systems are self-configuring, self-organizing, self-tuning, self-healing, self-managing systems of storage bricks. Borrowing organizational ideas from corporate structure and technologies from AI and control systems, self-* storage should simplify storage administration, reduce system cost, increase system robustness, and simplify system construction.
___
1pronounced "self-star", the name is a play on the UNIX shell wildcard character, '*'. It captures many recent buzzwords in a single meta-buzzword.
White Paper
People
FACULTY
Anastassia Ailamaki
Anthony Brockwell
Chuck Cranor
Christos Faloutsos
Greg Ganger
Mike Reiter
STAFF
Manish Prasad
Raja Sambasivan
Terrence Wong
STUDENTS
Michael Abd-El-Malek
Kinman Au
Garth Goodson
James Hendricks
Andrew Klosterman
Nuno Loureiro
Chris Lumb
Mike Mesnier
Adrian Ng
Spiros Papadimitriou
Brandon Salmon
Jiri Schindler
Shafeeq Sinnamohideen
Craig Soules
John Strunk
Eno Thereska
Matthew Wachs
Mengzhi Wang
Jay Wylie
Publications
Acknowledgements
This material is based upon work supported by the National Science Foundation under Grant No. 0326453. Any opinions, findings, and conclusions or recommendations expressed in this material are those of the author(s) and do not necessarily reflect the views of the National Science Foundation.
We thank the members and companies of the PDL Consortium: Amazon, Facebook, Google, Hewlett Packard Enterprise, Hitachi Ltd., Intel Corporation, IBM, Microsoft Research, NetApp, Inc., Oracle Corporation, Pure Storage, Salesforce, Samsung Semiconductor Inc., Seagate Technology, Two Sigma, and Western Digital for their interest, insights, feedback, and support.