23rd Annual Spring Visit Day
May 5, 2022 (Consortium speaker Series - May 4)
INFO & Agenda


We are pleased to welcome our Parallel Data Consortium Member Companies to the 23rd Annual Parallel Data Laboratory Spring Visit Day.
SECURE ONLINE REGISTRATION FORM FOR CMU ATTENDEES
You may receive a notification that your registration has bounced. Rest assured, it has been received. This is a result of spam protection on the registration form. Once your email address has been added to the visit day d-list, Karen will respond to your registration to confirm.
VISIT DAY RESOURCES - Event talks, posters, and videos


AGENDA
THURSDAY, MAY 5, 2022
8:30 am - 9:00 am
Breakfast Meet and Greet
Join us in the NSH Atrium and NSH 3305 to register and have breakfast - see map
9:00 am - 9:30 am
Welcome and PDL Overview: Greg Ganger
NSH 3305 - see map
9:30 am - 10:15 am
Speakers: Akshitha Sriraman, Dimitrios Skarlatos, Greg Ganger
Short research intros and poster advertisements
NSH 3305
10:15 am - 10:30 am
Minutes of Madness - PDL Students
self+poster intros by student presenters
NSH 3305
10:30 am - Noon
Poster Session 1
NSH Atrium
Noon - 1:30 pm
Lunch
NSH 3305
1:30 pm - 2:15 pm
Speakers: George Amvrosiadis, Phil Gibbons, Zhihao Jia
Short research intros and poster advertisements
NSH 3305
2:15 pm - 3:00 pm
Speaker: Andy Pavlo
Overview of Database Research
3:00 pm - 5:00 pm
Poster Session 2
NSH Atrium
5:00 pm
Official End of Day & Dinner
NSH Atrium
WEDNESDAY, MAY 4, 2022
An optional afternoon of seminars offered by some of our industry guests. Seminars will be held in NSH 3305 - see map
12:00 pm -12:45 pm
Cross Cluster Replication in OpenSearch
Kiran Reddy, Principal Engineer, Amazon Web Services
12:45 pm - 1:30 pm
Building a Next-generation Serverless Platform for Converged AI/ML and HPC Workflows
Carlos H. A. Costa, Principal Research Staff Member, IBM
1:30 pm - 1:45 pm
BREAK
1:45 pm - 2:30 pm
Reinventing Amazon Redshift
Sanket Hase, Software Development Manager, Amazon Web Services
2:30 pm - 3:15 pm
Oracle Large-Object Storage: Scaling for OLTP
Fan Wu, Software Development Manager, Oracle
3:15 pm - 3:30 pm
BREAK
3:30 pm - 4:15 pm
Data-Centric Computing with Emerging Memory and Storage Devices
Rekha Pitchumani, Sr. Research Manager, Samsung
4:15 pm - 5:00 pm

Real World Challenges in the Oracle Database Cloud
Vikramraj Sitpal, Senior Member of Technical Staff, Oracle
Accommodations
Your hotel booking responsibility (time is of the essence): There are no blocks set for Oakland area hotels before the visit day, so it's important for you to book a room now if you plan to attend. You can always tweak it / cancel it as needed. Ask for the Carnegie Mellon University rate; however, your corporate pricing may be better.
Hilton Garden Inn - University Place
3454 Forbes Avenue
Pittsburgh, Pennsylvania 15213
Phone: (412) 683-2040
FAX: (412) 688-1986
Rates on inquiry, parking extra
Hampton Inn - University Center
3315 Hamlet Street
Pittsburgh PA 15213
Phone: 412-681-1000
FAX: 412-681-3022
Rates on inquiry, parking extra
MUST use Code: PITOK

Wyndham Pittsburgh University Center
100 Lytton Avenue
Pittsburgh PA 15213
Phone: 412-682-6200
FAX: 412-681-4749
Rates on inquiry, parking extra
Mention: CMU Visitor
Residence Inn by Marriott - University/Medical Center
3896 Bigelow Boulevard
Pittsburgh, Pennsylvania 15213
Phone: 412-621-2200
FAX: 412-621-0955
Rates on inquiry, parking extra
Mention: CMU Visitor

Residence Inn Pittsburgh - Oakland/ University Place
3341 Forbes Avenue
Pittsburgh, PA 15213
Phone: 412-621-5600
Rates on inquiry, parking extra
Mention: CMU Visitor
Transportation
Many of the hotels near CMU have shuttle transportation to the university available. There are several options available for getting to and from the airport. Please make your own transportation arrangements from the airport to your hotel / CMU. There are several options available for getting to and from the airport:
Uber Pittsburgh - learn more
Uber is a mobile application that connects you with a driver at the push of a button.Drivers arrive curbside in just minutes, and you can track the arrival of your ride. Payment is seamlessly billed to your credit card, PayPal account, or Google Wallet at the end of your trip—no need to tip.
You can download the Uber app using the following links:
iTunes App Store, Google Play Store, or Blackberry App World.
Car Services
Airport Sedan Service(Larry Waite)
Advance reservations are required, ~$60 each way
Contact Larry Waite, 412-401-LIMO (5466)
Gateway Limo
Rates: $60 from the airport to Downtown, Oakland, Shadyside, and Squirrel Hill (sedan). The rate for a van, a 14 passenger vehicle, is $78.00 per hour. Mention CMU when making a reservation.
Call the office at 412-782-5800 or 1-800-390-1222 (phones answered 24/7) for reservations.
Email: amydemeri@comcast.net
Harper's Transportation
Harper1084@verizon.net - 412-531-1940
Classy Cab – SUV cabs
http://www.classycab.com
Phone 412-322-5080
Fax 412-322-5085
Rental Car available at the airport from all the major companies.
Taxi Service (approximately $50 each way)
Yellow Cab: 412-321-8100
Cab Service: 412-855-4484
Supershuttle - book online
Shared van - $35.55 each way, $9 per additional passenger
Private van - $115.55 each way
Executive sedan - $73 each way
Airport Shuttle (PATransit 28X - Airport Flyer) (approximately $3.75 each way)
Leaves CMU from the corner of Forbes and Morewood Avenues every 20 minutes starting at 5:00 a.m., last shuttle at 10:40 p.m. Shuttle leaves the airport from the baggage level starting at 5:45 a.m. approximately every 20 minutes.


Maps
Directions to CMU from the airport.
Detailed map of CMU campus and area. Many of the PDL folks are on the 2nd floor of CIC, and our data center, but others have offices in the Gates Hillman Center.
Location of Hamerschlag Hall, Roberts Hall (Singleton Room) and the CIC building which houses most of PDL's personnel, plus our new Data Center.
Map of the walk from the Wyndham to CMU campus - CIC Bldg. (about a 15 minute walk)
Parking is available along Frew Street.
Parking
East Campus Garage Parking Blackout Notices:
Due to various circumstances, such as campus-wide events and the number of validation tickets already reserved, Parking & Transportation Services may place the restrictions on access to the East Campus Garage. The dates and events will be noted below.
In addition, there may be additional days when the garage will be open for lease holders and event attendees only. Please bookmark CMU PArking's homepage (https://www.cmu.edu/parking/index.html) and check back frequently for any updates or changes.
Campus Parking Options
Tthere are parking machines on Schenley Drive, Frew Street, and Tech Street which are all very near to Roberts Hall. They accept currency and credit cards; it is ~$3.00 / hour and uses your license plate as the timing factor -- there should be plenty of spots still available at that hour. Parking is also available in the RMCIC Building Garage - P4 on the general campus map (closest) or the East Campus Garage - P7 on the map (further walk but more familiar to some of our guests). Some past attendees have also used the parking lot on Forbes Avenue at the nearby Carnegie Museum (also shown on the map). If you have any questions, please ask Karen.
Another map showing parking available on and around the CMU campus.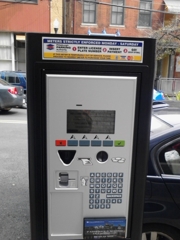 CONTACTS

Director, Parallel Data Lab
VOICE: (412) 268-1297


Executive Director, Parallel Data Lab
VOICE: (412) 268-5485


PDL Administrative Manager
VOICE: (412) 268-6716