SELF SECURING STORAGE
Contact: Greg Ganger
Summary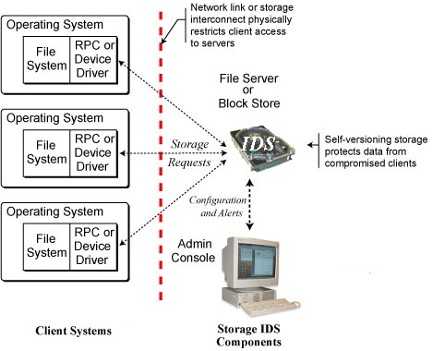 Self-securing storage is an exciting new technology for enhancing intrusion survival by enabling the storage device to safeguard data even when the client OS is compromised. It capitalizes on the fact that storage servers (whether file servers, disk array controllers, or even IDE disks) run separate software on separate hardware. This opens the door to server-embedded security that cannot be disabled by any software (even the OS) running on client systems as shown in the figure above. Of course, such servers have a narrow view of system activity, so they cannot distinguish legitimate users from clever impostors. But, from behind the thin storage interface, a self-securing storage server can actively look for suspicious behavior, retain an audit log of all storage requests, and prevent both destruction and undetectable tampering of stored data. The latter goals are achieved by retaining all versions of all data; instead of over-writing old data when a write command is issued, the storage server simply creates a new version and keeps both. Together with the audit log, the server-retained versions represent a complete history of system activity from the storage system's point of view.

People
FACULTY
STAFF
Greg Economou
STUDENTS
Garth Goodson
Adam Pennington
Craig Soules
John Strunk
Publications


SELF SECURING STORAGE
Acknowledgements
This material is based on research sponsored by the Air Force Research Laboratory, under agreement number F49620-01-1-0433, and by DARPA/ITO's OASIS program, under Air Force contract number F30602-99-2-0539-AFRL. The U.S. Government is authorized to reproduce and distribute reprints for Governmental purposes notwithstanding any copyright notation thereon. The views and conclusions contained herein are those of the authors and should not be interpreted as necessarily representing the official policies or endorsements, either expressed or implied, of the Air Force Research Laboratory or the U.S. Government.
We thank the members and companies of the PDL Consortium: Alibaba Group, Amazon, Datrium, Facebook, Google, Hewlett Packard Enterprise, Hitachi Ltd., Intel Corporation, IBM, Micron, Microsoft Research, NetApp, Inc., Oracle Corporation, Salesforce, Samsung Semiconductor Inc., Seagate Technology, and Two Sigma for their interest, insights, feedback, and support.