DCO DEDICATION— May 23, 2006

On May 23, 2006, the Data Center Observatory was dedicated at Carnegie Mellon University. The DCO is a dual-purpose facility that is both a working data center and a research vehicle for the study of data center automation and efficiency.
The DCO is a large scale collaboration between several campus groups including the Parallel Data Lab, Cylab, the Carnegie Institute of Technology, the Department of Electrical & Computer Engineering, the School of Computer Science and Carnegie Mellon Facilities Management Services. It also includes participation from a number of industry and government partners, including APC, which is providing engineering expertise and its InfraStruXure® system for powering, cooling, racking and managing equipment in the DCO.
PDL Director and Professor of ECE Greg Ganger remarks that "the Data Center Observatory gives us a unique testbed for evaluating and benefitting from efforts to automate administration, such as our Self-* Storage project."
-- with information from the May 23, 2006 CMU Press Release
MORE INFORMATION
Greg Ganger's Data Center Observatory Overview slides
PDF [445K]
Additional DCO Dedication photos
DCO DEDICATION PHOTOS
Photo credit: Ken Andreyo, University Photographic Services
© Carnegie Mellon University 2006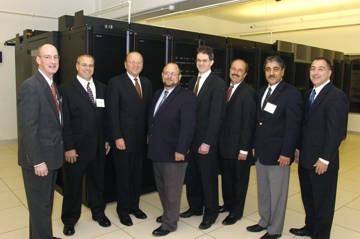 From L to R: Chet Lasell, APC Director of Public Relations - North America; Ken Denecour, APC Account Manager; Jared L. Cohon, Carnegie Mellon President; Bob Wolfgang, APC DataCenter Design Engineer; Greg Ganger, Prof. of ECE and Director of the PDL; Ron Seftick, APC Global Vice President - Construction & Facilities Engineering Group; Pradeep Khosla, Carnegie Mellon Dean of Engineering; Bill Courtright, Executive Director of the PDL at Carnegie Mellon.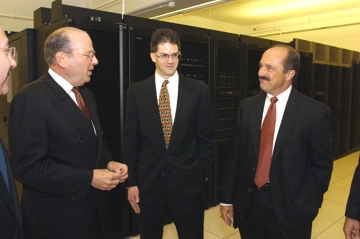 President Cohon, Professor Ganger of Carnegie Mellon and APC VP Ron Seftick.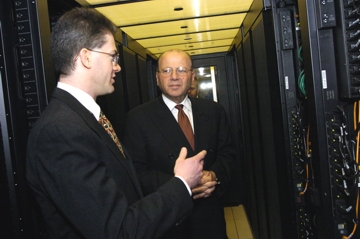 Greg Ganger describes the hot aisle cooling and heat containment system housing the DCO storage racks to President Cohon.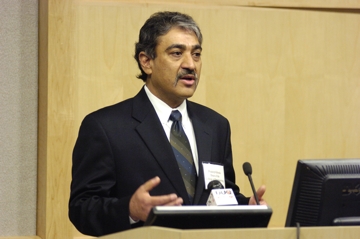 Pradeep Khosla, Dean of Engineering at Carnegie Mellon discusses the possibilties for research that will spring from the DCO.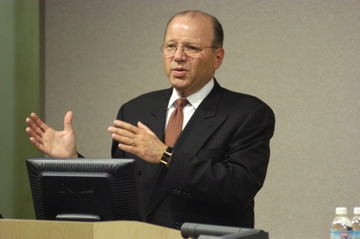 Carnegie Mellon University President Jared Cohon talks about the benefits a project the scope of the DCO will have for the university community.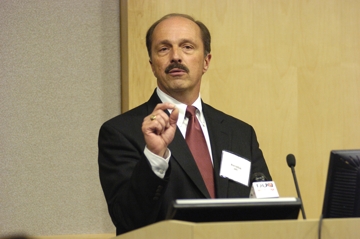 Ron Seftick, APC VP describes the advantages of the APC cooling system housing the computers in the DCO.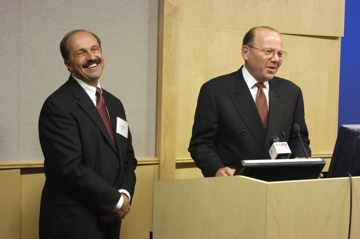 President Cohon and APC VP Ron Seftick.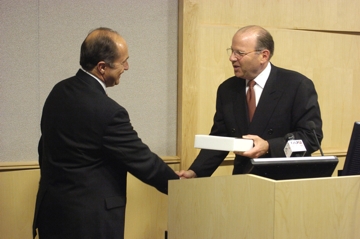 President Cohon thanks Ron Seftick of APC for his company's support of the project.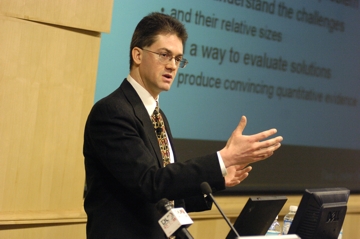 Greg Ganger points out the advantages of a data observatory to Industry, University and Press attendees.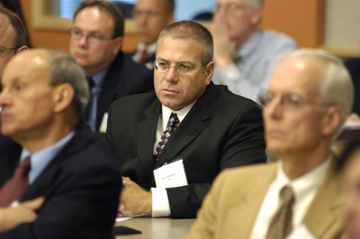 Ken Denecour, APC Account Manager attends the ribbon cutting talks.
Greg Ganger describes the DCO to Kevin Heslin, editor of Energy & Power Management, while Bill Courtright looks on.