23rd Annual
PARALLEL DATA LAB RETREAT
October 26-28, 2015



INFO & AGENDA

We are pleased to welcome our PDL Consortium Member Companies
to the 23rd Annual Parallel Data Lab Workshop and Retreat.

GENERAL INFORMATION


OUR NEWSLETTER


(Industry attendees, contact your Liaison for the username/password or for more information)
Retreat Agenda
---
Monday, October 26: CMU/Bedford Springs Resort
---
8:30 am - 9:00 am
Registration & Continental Breakfast
9:00 am - 9:30 am
Welcome

Greg Ganger - Parallel Data Lab 2015 Retreat Welcome & Overview

9:30 am - 10:30 am
Speaker

Kayvon Fatahalian - Large-scale Visual Computing

10:30 am - 11:30 am
Industry Poster Session
11:30 am - 1:45 pm
Bus Ride to Bedford Springs & Lunch
2:00 pm - 3:30 pm
Session I: Testing and Dedup


Ben Blum - Concurrency Testing with Data-Race Preemption Points

Lianghong Xu - Similarity-based Deduplication for Distributed Document Databases

3:30 pm - 3:45 pm
Break
3:45 pm - 5:15 pm
Session II: Adapting and Specializing Storage


Timmy Zhu - SNC-Meister: Admitting more workloads with tail latency SLOs

Joy Arulraj - Let's Talk About Storage & Recovery Methods for Non-Volatile Memory Database Systems

5:15 pm - 6:00 pm
Special Presentation
6:00 pm - 7:30 pm
Dinner
7:30 pm - 8:30 pm
Session III: Short Work-in-Progress Talks

Short talks on new research activities, pushing for visits to posters.

Donghyuk Lee - Isolating CPU and IO Traffic with New DRAM Architectures

Rajat Kateja - FTL designs for tail latency reduction

Lin Ma - Multi-level anti-caching for NVM+SSD in H-Store

8:30 pm - 10:30 pm
Reception/Poster Session I
---
Tuesday, October 27: Bedford Springs Resort
---
8:15 am - 9:00 am
Breakfast
9:00 am - 10:30 am
Session IV: Cluster and FS Scheduling


Alexey Tumanov - Aramid : Scheduling with Time-based Reservations in Heterogeneous Clusters

Qing Zheng - DeltaFS: Scalable File System For Future Exascale Data Centers

10:30 am - 10:45 am
Break -- CONSTITUTION HALL
10:45 am - 12:15 pm
Session V: Adaptivitiy in ML Execution


Jinliang Wei - Managed bandwidth for distributed ML computations

Aaron Harlap - Addresing the Straggler Problem in Iterative Convergent Parallel ML

12:15 pm - 1:30 pm
Lunch
1:30 pm - 3:00 pm
Socializing and Chat-filled Walk
3:00 pm - 4:30 pm
Session VI: Working with New Storage Technologies


Phil Gibbons - Write-efficient Algorithms for Emerging Memory Technologies

Yixin Luo -- Data Retention and Read Disturb in MLC NAND Flash Memory

4:30 pm - 4:45 pm
Break
4:45 pm - 6:15 pm
Session VII: Better Distributed Services


Henggang Cui - Scalable Deep Learning on Distributed GPUs with a GPU-based Parameter Server

Jin Kyu Kim - STRADS: A Distributed Framework for Scheduled Model-Parallel ML

6:15 pm - 7:30 pm
Dinner
7:30 pm - 8:30 pm
Session VIII: Short Work-In-Progress Talks

Short talks on new research activities, pushing for visits to posters.

Saurabh Kadekodi - Caveat-Scriptor: Write Anywhere Shingled Disks

Angela Jiang - Job resource need prediction

Huanchen Zhang - Reducing the Storage Overhead of Main-Memory OLTP Databases with Hybrid Indexes

8:30 pm - 10:00 pm
Reception/Poster Session II
---
Wednesday, October 28: Bedford Springs Resort
---
Morning
Workshop Talks
8:45am - 9:15am
Breakfast
9:15am - 11:30am
Session IX: Scaling Metadata, Improving Memory BW


Kai Ren - TBA

Lin Xiao - ShardFS vs. IndexFS: Replication vs. Caching Strategies for Distributed Metadata Management in Cloud Storage Systems

Gennady Pekhimenko - Exploiting Compressed Block Size as an Indicator of Future Reuse

Afternoon
Feedback, Departure
11:30am - 1:15pm
Lunch and Industry Feedback
1:30pm
Buses depart for Pittsburgh Airport & CMU (one in each direction)
4:00pm
Arrive at Airport
4:00pm

Arrive at CMU
---
Pittsburgh Accommodations
If you are planning to arrive in Pittsburgh over the weekend preceding the retreat, PDL has several rooms on hold at each of the hotels listed below. When you call the hotel to make reservations, tell them that you'd like a room booked for the PDL Retreat (or quote the appropriate code listed below). You may also book extra nights at the preferred rate if you request them at the time of your booking.
Your room reservations for the nights of the Retreat itself (Oct. 26 and 27) will be taken care of by us, so you will only need a room at one of the following hotels if you are arriving early and/or staying past the Retreat.
Please make your reservations as early as possible, as there are several Pittsburgh events that may also make rooms scarce.
TIP: There have been times when your corporate rate beats the rate we were able to secure.
Accommodations are available at the following hotels:
COURTYARD MARRIOTT - SHADYSIDE
5308 Liberty Avenue
Pittsburgh, PA 15224
1-800-321-2211 - Reservations
412-683-3113 - Reservations
412-683-3133 - Fax
Ask for CMU/PDL rate
$134+taxes
Parking - $17.88 / day

Reservation deadline: TBA
HAMPTON INN
3315 Hamlet Street
Pittsburgh, PA 15213
412-681-1000 - Reservations
412-681-3022 - Fax
Group Code: PDL
$119+taxes
Parking: included

Reservation deadline: TBA
HILTON GARDEN INN - UNIVERSITY PLACE
3454 Forbes Avenue
Pittsburgh, PA 15213
412-683-2040 - Reservations
412-688-1986 - Fax
Ask for CMU/PDL rate
Use code 5195130 for online reservations
$149+taxes
Parking: $18.00 per night



Reservation deadline: TBA

RESIDENCE INN BY MARRIOTT
Pittsburgh / Oakland
3896 Bigelow Boulevard
Pittsburgh, PA 15213
412-621-2200 - Reservations
800-331-3131 - Reservations
412-621-0955 - Fax
Ask for CMU/PDLrate
$139+taxes
Parking: included
Breakfast buffet included



Reservation deadline: TBA


SHADYSIDE INN ALL SUITES HOTEL
5405 Fifth Avenue
Pittsburgh, PA 15232
412-441-4444 - Reservations
412-687-7312 - FAX
Code: PDL
Reservation portal for PDL Visitors:
http://shadysideinn.com/pro/pdlvisitors


$123 + taxes for Studio Suite
$133 + taxes for One Bedroom Suite
$143 + taxes for Two Bedroom Suite
Parking: included
Wi-Fi: Free

Reservation Deadline: Discount does not expire
WYNDHAM PITTSBURGH UNIVERSITY CENTER
100 Lytton Avenue
Pittsburgh, PA 15213
412-682-6200 - Reservations
412-681-4749 - Fax

Problems Contact: Sue Moser – 412-682-6200
Ask for CMU rate
$141+taxes
Parking: included


Reservation deadline: TBA
Transportation
Once in Oakland, most of the hotels we have listed above have shuttle transportation to CMU available. Please request that you be dropped off on the west end of Frew Street, then refer to the attached map for directions to the Singleton Room in Roberts Hall.
*NEW INFO* - Hotel Shuttle/Transport page to print
Taking the shuttle from your Oakland area hotel to and from CMU
Getting to and from the Airport
Please make your own transportation arrangements from the airport to your hotel / CMU. There are several options available for getting to and from the airport:
Uber Pittsburgh - learn more
Uber is a mobile application that connects you with a driver at the push of a button.Drivers arrive curbside in just minutes, and you can track the arrival of your ride. Payment is seamlessly billed to your credit card, PayPal account, or Google Wallet at the end of your trip—no need to tip.
You can download the Uber app using the following links:
iTunes App Store, Google Play Store, or Blackberry App World.
Rental Car: Available at the airport from all the major companies (not really recommended for the Retreat since we depart CMU to go to a resort that is about two hours away).
Taxi Service (~$60 each way)
Yellow Cab: 412-321-8100
Cab Service: 412-855-4484
The following driver services cost approximately $50 - $60 dollars one way (includes tip). The drivers do accept credit card payments. If you want Karen to arrange this for you, please make sure she has your full flight info (date / time / flight number) and your cell phone number.

Airport Sedan Service (Larry Waite)
Advance reservations are required, ~$60 each way
Contact Larry Waite, 412-401-LIMO (5466)

Gateway Limo
Rates: ~$6000 from the airport to Downtown, Oakland, Shadyside, and Squirrel Hill (sedan). The rate for a van, a 14 passenger vehicle, is $78.00 per hour. Mention CMU when making a reservation.
Call the office at 412-782-5800 (phones answered 24/7) for reservations.
Email: amydemeri@comcast.net

Harper's Transportation
Harper1084@verizon.net - 412-531-1940

Classy Cab – SUV cabs
http://www.classycab.com/index.htm
Phone 412-322-5080
Fax 412-322-5085
Supershuttle - book online
Shared van - $35.55 each way, $9 per additional passenger
Private van - $115.55 each way
Executive sedan - $73 each way
Airport Shuttle (PATransit 28X - Airport Flyer) ($3.75 each way, exact change)
Leaves CMU from the corner of Forbes and Morewood Avenues every 20 minutes starting at 4:25 a.m., last shuttle at 10:55 p.m. Shuttle leaves the airport from the arrivals level, door #6, starting at 5:20 a.m. approximately every 30 minutes.
Getting to CMU from Your Hotel
Most of the hotels have shuttle transportation to CMU available. This is NOT a direct shuttle to CMU and will make other stops in Oakland based on customer needs. If you do choose to use the hotel shuttle, please request that you be dropped off at the RMCIC Building.
MAPS & DIRECTIONS
Directions to the Singleton Room in Roberts Hall
The Singleton Room, surrounded by the Seagate Technology Atrium, is located on the fourth floor of Roberts Engineering Hall (REH). REH is behind and connected to Hamerschlag Hall and may be approached from two directions:
Through Hamerschlag Hall
Enter the front doors of Hamerschlag Hall from the campus mall. (Hamerschlag is the building with the cupola on top at the west end of campus.) Proceed to the staircase or the elevator at the end of HH first floor. Go down to level "B." Follow signs to REH. You will enter the Atrium next to Singleton.
From outside REH
Pass in front of Scaife Hall and follow the sidewalk on to the covered walkway above the service road. Proceed through the door into REH. The Singleton room will be on your left.
Campus Maps
Parking
While we assume most of you will use the shuttle PDL will provide, there are parking machines on Schenley Drive, Frew Street, and Tech Street which are all very near to Roberts Hall. They accept currency and credit cards; it is $3.00 / hour and uses your license plate as the timing factor. If you prefer, I should be able to secure a parking pass for you at the RMCIC Building Garage - P4 on the general campus map (closest) or the East Campus Garage - P7 on the map (further walk but more familiar to some of our guests). Some past attendees have also used the parking lot at the nearby Carnegie Museum (also shown on the map).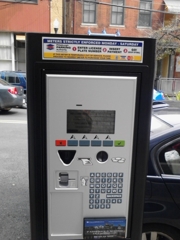 If you park in one of the above mentioned areas, particularly Schenley Drive, Frew Street, or Tech Street, please see this map for the Roberts Hall entry location/drop-off point or this map of campus.
Other Handy Maps
Bedford Springs Resort
Bedford Springs Resort is a four season, historically significant destination located on 2,200-acres. It began welcoming guests over 200 years ago when the mineral springs of Bedford Springs, PA became known as a source of rejuvenation. The resort is approximately 90 miles east of Pittsburgh.
CMU Retreat attendees and guests will travel to Bedford Springs on Monday, October 26 and return Wednesday, October 28. We will provide bus transportation to the resort on Monday and back to Pittsburgh and the Pittsburgh International airport on Wednesday afternoon.
Participants of the retreat will be members of the PDL Consortium and invited guests. Information on becoming a member of the consortium is available from Karen Lindenfelser, Bill Courtright (PDL Executive Director), or Greg Ganger (PDL Director).
Click to view a map and print driving directions.
Bedford Springs' page of directions.
Directions from the Pittsburgh International Airport to Carnegie Mellon University.
2014 PDL Workshop Attendees
Chris Murphy, Actifio
Christopher Provenzano, Actifio
Ippokratis Pandis, Cloudera
Akhil Gupta, Dropbox
Stephen Ives, EMC Corporation
Stephen Smaldone, EMC
Daniel Peek, Facebook
Michael Abd-El-Malek, Google
Manisha Jain, Google
Toby Smith, Google
Kenta Shiga, Hitachi Ltd
Hiroaki Shikano, Hitachi America, Ltd.
Kim Keeton, HP Labs
Adit Madan, HP Labs
John Heffner, HP Vertica
Cameron Bahar, Huawei Technology
Guobin Zhang, Huawei
Yuxin Zhang, Huawei
Phil Gibbons, Intel / ISTC-CC
Scott Hahn, Intel Corporation
Michael Kaminsky, Intel / ISTC-CC
Michael Kozuch, Intel Corporation
Ran Kurup, Intel Corporation
Todd Lisonbee, Intel


Babu Pillai, Intel / ISTC-CC
Carolyn Connor, Los Alamos National LaboratoryGary Grider, Los Alamos National Laboratory
Reid Priedhorsky, Los Alamos National Laboratory
Rich Draves, Microsoft Research
Justin Levandoski, Microsoft Research
Jay Lorch, Microsoft Research
Nitin Agrawal, NEC Labs
James Lentini, NetApp
Joseph Moore, NetApp
Jeff Prem, NetApp
John Strunk, NetApp
Sumanta Chatterjee, Oracle
Tirthankar Lahiri, Oracle
Stephen Choi, Samsung Semiconductor Inc.
Dave Anderson, Seagate Technology
Mike Miller, Seagate Technology
Petros Efstathopoulos, Symantec Corporation
Benixon Arul Dhas, Western Digital
William Boyle, Western Digital
Jie Yu, Western Digital
Raffi Krikorian, PDL Guest

Contacts:

PDL Administrative Manager
School of Computer Science
Carnegie Mellon University
4720 Forbes Avenue - CIC 2209
PITTSBURGH, PA 15213-3891
VOICE: (412)268-6716
FAX: (412)268-3010


Director, Parallel Data Laboratory
Electrical and Computer Engineering
Carnegie Mellon University
4720 Forbes Avenue - CIC 2208
PITTSBURGH, PA 15213-3891
VOICE: (412)268-1297
FAX: (412)268-6779


PDL Executive Director
Carnegie Mellon University
4720 Forbes Avenue - CIC 2210
PITTSBURGH, PA 15213-3891
VOICE: (412) 268-5485
FAX: (412)268-3010