26th Annual
PARALLEL DATA LAB RETREAT
October 29-31, 2018



HELPFUL TIPS
The registration pages have valid security certificates issued through CMU/ECE and the PDL, though Firefox and Internet Explorer still indicate that they are mistrusted. Please accept the certificates and complete your registration).
You may receive a notification that your registration has bounced, rest assured, it has been received. This is a result of spam protection. Once your email address has been added to the dlist, all will be fine. Karen will respond to your registration once that is done so you can be assured it was received.
Industry Registration Page: https://yogi.pdl.cmu.edu/r18/reg_retreat18.html
As a reminder of how many attendees a consortium member can send (in Greg's original invite):
Level 1 = 2 attendees; Level 2 = 3 attendees; Level 3 = 4 attendees
Accommodations
Your hotel booking responsibility (time is of the essence): Oakland, PA hotel room blocks end about a month before the retreat. It's important for you to book a room now if you plan to attend the retreat. You can always tweak it / cancel it as needed. Ask for the PDL Retreat rate; however, your corporate pricing may be better. Please see http://www.pdl.cmu.edu/Retreat/retreat18.shtml#accomodations
YOU DO NOT NEED TO BOOK A ROOM FOR THE NIGHTS OF OCTOBER 29 & 30; PDL books the rooms (for all attendees) and pays for the rooms (except for Government rooms) for those two nights.
Pittsburgh Transportation Arrangements
Most of our guests arrive Sunday night. A few return to Pittsburgh after the retreat to stay for an extra day or two.http://www.pdl.cmu.edu/Retreat/retreat18.shtml#transport provides info on options for transportation to and from the airport, etc.
OAKLAND AREA Hotel Shuttles and CAB / LIMO Info: click here
There will be two buses returning to Pittsburgh from the resort: one delivers its passengers to campus and the other goes directly to the airport, arriving there between 4:00 and 4:30 pm.
Transportation to the Retreat / Retreat Venue
Rental cars are not necessary unless you want to drive yourself to the retreat resort (around a 2 hour drive from Pittsburgh). Transportation is on your own from the airport to your Oakland, PA hotel; shuttle vans will be arranged to get you from the hotel to CMU for the 8:30 / 9:00 am kick off to the retreat; buses will transport attendees from CMU to the resort around 11:30 am on Monday. After the retreat concludes, buses will transport attendees to the PIT airport or CMU on Wednesday, leaving the resort around 1:30 pm
Again, PDL will have a van arranged to make a run to the Oakland area hotels to get our guests to the Monday morning start (breakfast / talk / industry poster session) at CMU. We will leave directly from this kick off for the resort. Pick up times will be sent the week of the retreat.
Directions to Bedford Omni Springs Resort
Your Bedford Springs Hotel Room
Your hotel room at Bedford Springs will not be individually available. Karen will be given all of the room keys, and they will be distributed during our breaks. We should arrive at the resort in time to start our first talk at the resort around 2 pm on Monday. Our talks will be held in the Colonnade (right up the main stairs in the lobby) and our first meal will be held around 6 or 6:30 PM in the Eisenhower Room which is one flight up from the meeting room.
Parking
While we assume most of you will use the shuttle PDL will provide, there are parking machines on Schenley Drive, Frew Street, and Tech Street which are all very near to Roberts Hall. They accept currency and credit cards; it is $3.00 / hour and uses your license plate as the timing factor.There is also parking in the RMCIC Building Garage - P19 on the general campus map (closest) or the East Campus Garage - P7 on the map (further walk but more familiar to some of our guests). Some past attendees have also used the parking lot at the nearby Carnegie Museum (also shown on the map).. If you have any questions, please ask Karen.
Another map showing parking available on and around the CMU campus.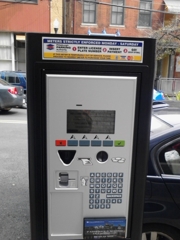 Other Handy Maps
Attire
The entire event will be very casual / comfortable attire (weather permitting, we do take advantage of the beautiful fall weather / surroundings so hiking shoes / comfortable clothes are suggested for Tuesday). There is a beautiful pool that all guests can use at the resort.
October 29 Retreat Kick-Off
Kick-off is usually around 8:30 / 9:00 am for the breakfast / meet and greet (location TBD). The Retreat starts at CMU and then we leave immediately from CMU for the resort (so no time to go back to your hotel to check out / pick up your luggage).
Please check out of your Pittsburgh hotel and bring all of your belongings to CMU on Monday morning. We leave for the Retreat resort, https://www.omnihotels.com/hotels/bedford-springs, directly from CMU.
For locating us via GPS, you can use the intersection of Frew Street and Hamerschlag Drive, Pittsburgh, PA 15213. (Hamerschlag Drive is the turn in front of the Roberts Drive sign at that left turn into CMU's campus at that intersection). https://goo.gl/maps/1ZDfKJF4NpF2.
Map and air photo collection to help you find your way around!
Preliminary Retreat Agenda

---
Monday, October 29: CMU/Bedford Springs Resort
---
8:30 - 9:00 Registration and Continental Breakfast
9:00 - 9:30 Welcome and PDL Overview by Greg
9:30 - 10:30 Guest Speaker
10:30 - 11:30 Industry poster session
11:30 - 1:45 Bus Ride to Bedford Springs
2:00 - 3:30 Session #1: 2 talks
3:30 - 3:45 Break
3:45 - 5:15 Session #2: 2 talks
5:15 - 6:00 Special presentation
6:00 - 7:30 Dinner
7:30 - 8:30 Session #3: work in progress talks
8:30 - 10:30 Reception/Poster Session #1
---
Tuesday, October 30: Bedford Springs Resort
---
8:15 - 9:00 Breakfast
9:00 - 10:30 Session #4: 2 talks
10:30 - 10:45 Break
10:45 - 12:00 Session #5: 2 talks
12:15 - 1:30 Lunch
1:30 - 3:00 Chat-filled Walk and other social activities
3:00 - 4:30 Session #6: 2 talks
4:30 - 4:45 Break
4:45 - 6:15 Session #7: 2 talks
6:15 - 7:30 Dinner
7:30 - 8:30 Session #8: work in progress talks
8:30 - 10:00 Reception/Poster Session #2
---
Wednesday, October 31: Bedford Springs Resort
---
8:45 - 9:15 Breakfast
9:15 - 11:30 Session #9: 3 talks
11:30 - 1:15 Lunch and Industry feedback
1:30 Buses to airport and CMU (one each)
4:00 Arrive at airport
4:00 Arrive at CMU
---
Industry Poster Session - CMU
Monday morning, October 29
There is an Industry Poster Session at the kick-off portion of the retreat (CMU on Monday morning). You will be receiving information regarding this but please begin to think about what you want to present to our students / staff / faculty. We will assist you in printing / mounting 32 x 40 inch posters and have them ready for you to use that moring. Again, those details will be forthcoming; just wanted to give you the heads up for some poster brainstorming at this point.
Examples of posters: http://www.pdl.cmu.edu/Events/R17/ind-posters17.shtml (you may need to ask your liaison or Karen for the sign in info for this protected site)
We recommend bringing business cards with you; one for our records and some for the students.
More Information / Contact:

PDL Administrative Manager
School of Computer Science
Carnegie Mellon University
4720 Forbes Avenue - CIC 2209
PITTSBURGH, PA 15213-3891
VOICE: (412)268-6716
FAX: (412)268-3010