25th Annual
PARALLEL DATA LAB RETREAT
October 23-25, 2017



INFO & AGENDA

We are pleased to welcome our PDL Consortium Member Companies
to the 25th Annual Parallel Data Lab Workshop and Retreat.

GENERAL INFORMATION


OUR NEWSLETTER


(Industry attendees, contact your Liaison for the username/password or for more information)
Retreat Agenda
---
Monday, October 23: CMU/Bedford Springs Resort
---
8:30 am - 9:00 am
Registration & Continental Breakfast
-- SINGLETON ROOM, ROBERTS HALL
9:00 am - 9:30 am
Welcome -- SINGLETON ROOM

Greg Ganger - Parallel Data Lab 2016 Retreat Welcome & Overview

9:30 am - 10:30 am
Speaker -- SINGLETON ROOM

David Andersen – Indices, Indices, Indices

10:30 am - 11:30 am
Industry Poster Session -- ROBERTS HALL ATRIUM
11:30 am - 1:45 pm
Bus Ride to Bedford Springs & Lunch -- FREW STREET
2:00 pm - 4:00 pm
Session I: Making Database Systems Awesome
-- COLONNADE BALLROOM

Joy Arulraj - What Non-Volatile Memory Means For Database Systems

Dana Van Aken - Automatic Database Management System Tuning Through Large-scale Machine Learning

Ben Blum - Testing Concurrent Transactional Programs

Jinliang Wei - Automatic Parallelization for Distributed Machine Learning Training


4:00 pm - 4:15 pm
Break -- CONSTITUTION HALL
4:15 pm - 6:15 pm
Session II: Specializing Systems (to RDMA, NVM, ...)
-- COLONNADE BALLROOM

Anuj Kalia - eRPC: High-performance and Usable RPCs for Lossless Kernel-bypass Networks

Rajat Kateja - Storage management for NVM systems

Andrew Chung - Tributary: spot-dancing for elastic services with latency SLOs

Kevin Hsieh - On Machine Learning over Non-I.I.D. Data Partitions


Rashmi Vinayak - Smart redundancy for big data systems: Theory and Practice

6:15 pm - 7:15 pm
Dinner -- EISENHOWER BALLROOM
7:15 pm - 8:30 pm
Session III: Short Work-in-Progress Talks
-- COLONNADE BALLROOM


Aaron Harlap - Pipe Dream: Pipeline Parallelism for DNN Training

Prashanth Menon - Relaxed Operator Fusion for In-Memory Databases

Abutalib Aghayev - Effective Memory Usage for Multitenant Machine Learning Training with Memory-Mapped I/O

Lin Ma - Query-based Workload Forecasting for Self-Driving Database Management Systems

Rajat Kateja - Viyojit: Decoupling Battery and DRAM Capacities for Battery-Backed DRAM


8:30 pm - 10:30 pm
Reception/Poster Session I -- COLONNADE BALLROOM
---
Tuesday, October 24: Bedford Springs Resort
---
8:15 am - 9:00 am
Full Breakfast -- CRYSTAL DINING ROOM
Continental Breakfast -- CONSTITUTION HALL
9:00 am - 10:30 am
Session IV: Orchestration of Video Stream Processing
-- COLONNADE BALLROOM

Chris Canel - FilterForward: Enabling Publish-Subscribe for Streaming Video Analytics​

Angela Jiang - Mainstream: Adaptive compute sharing for video analysis


10:30 am - 10:45 am
Break -- CONSTITUTION HALL
10:45 am - 12:15 pm
Session V: Toward NVM and Flash Efficiency
-- COLONNADE BALLROOM

Yixin Luo - Mitigating Data Retention and Process Variation Errors in 3D NAND Based SSDs

Charlie McGuffey - Caching Policies to Save Energy and Bandwidth on NVM


12:15 pm - 1:15 pm
Lunch -- EISENHOWER BALLROOM
1:15 pm - 2:30 pm
Socializing and Chat-filled Walk -- HOTEL GROUNDS
Wii games room available 1:00 pm to midnight -- REAGAN-B
2:30 pm - 4:00 pm
Session VI: Cluster Workloads and Scheduling
-- COLONNADE BALLROOM

George Amvrosiadis - Bigger, Longer, Fewer: What do cluster jobs look like outside Google?

Junwoo Park - 3Sigma: Distribution-Based Cluster Scheduler for Runtime Uncertainty


4:00 pm - 4:15 pm
Break -- CONSTITUTION HALL
4:15 pm - 6:15 pm
Session VII: File Systems in the Large
-- COLONNADE BALLROOM

Saurabh Kadekodi - A Case for Packing and Indexing in Cloud File Systems

Qing Zheng - DeltaFS PLDB: Light-weight in-situ analysis for faster HPC queries

Greg Ganger, et al. - PDL Turns 25

6:15 pm - 7:30 pm
Dinner -- EISENHOWER BALLROOM
7:30 pm - 8:30 pm
Session VIII: Short Work-In-Progress Talks
-- COLONNADE BALLROOM


Saugata Ghose - Vulnerabilities and Security Exploits in MLC NAND Flash Memory Programming

Daniel Berger - AdaptSize: Orchestrating the Hot Object Memory Cache in a CDN

Gauri Joshi - Redundancy Techniques in Cloud and ML Infrastructure

Nathan Beckmann - LHD: Improving Cache Hit Rate by Maximizing Hit Density

8:30 pm - 10:00 pm
Reception/Poster Session II -- COLONNADE BALLROOM
---
Wednesday, October 25: Bedford Springs Resort
---
Morning
Workshop Talks
8:45am - 9:15am
Full Breakfast -- CRYSTAL DINING ROOM
Continental Breakfast -- CONSTITUTION HALL
9:15am - 11:30am
Session IX: Caching and Automating Efficient Parallelization
-- COLONNADE BALLROOM

Conglong Li - Workload Analysis and Caching Strategies for Search Advertising Systems

Jin Kyu Kim - STRADS+: Simplifying Parallel ML Programming

Chris Fallin - Finding Hidden Parallelism: a Data-Structure-Aware Analysis for Auto-Parallelization


Afternoon
Feedback, Departure
11:30am - 1:15pm
Lunch and Industry Feedback
1:30pm
Buses depart for Pittsburgh Airport & CMU (one in each direction)
4:00pm
Arrive at Airport
4:00pm

Arrive at CMU
---
Pittsburgh Accommodations
If you are planning to arrive in Pittsburgh over the weekend preceding the retreat, PDL has several rooms on hold at each of the hotels listed below. When you call the hotel to make reservations, tell them that you'd like a room booked for the PDL Retreat (or quote the appropriate code listed below). You may also book extra nights at the preferred rate if you request them at the time of your booking.
Your room reservations for the nights of the Retreat itself (Oct. 26 and 27) will be taken care of by us, so you will only need a room at one of the following hotels if you are arriving early and/or staying past the Retreat.
Please make your reservations as early as possible, as there are several Pittsburgh events that may also make rooms scarce.
TIP: There have been times when your corporate rate beats the rate we were able to secure.
Accommodations are available at the following hotels:
COURTYARD MARRIOTT - SHADYSIDE
5308 Liberty Avenue
Pittsburgh, PA 15224
1-800-321-2211 - Reservations
412-683-3113 - Reservations
412-683-3133 - Fax
Ask for CMU/PDL rate
Inquire

Reservation deadline: TBA
HAMPTON INN
3315 Hamlet Street
Pittsburgh, PA 15213
412-681-1000 - Reservations
412-681-3022 - Fax


2 queens from $124, includes wifi
Parking: $15/day

Reservation deadline: TBA

Booking Link

HILTON GARDEN INN - UNIVERSITY PLACE
3454 Forbes Avenue
Pittsburgh, PA 15213
412-683-2040 - Reservations
412-688-1986 - Fax
Ask for CMU/PDL rate
Inquire



Reservation deadline: TBA

RESIDENCE INN BY MARRIOTT
Pittsburgh / Oakland
3896 Bigelow Boulevard
Pittsburgh, PA 15213
412-621-2200 - Reservations
800-331-3131 - Reservations
412-621-0955 - Fax
Book your reservation online.
Inquire
Parking: $15/day
Breakfast buffet included



Reservation deadline: TBA


SHADYSIDE INN ALL SUITES HOTEL
5405 Fifth Avenue
Pittsburgh, PA 15232
412-441-4444 - Reservations
412-687-7312 - FAX
Code: PDLFALL



$125 + taxes for Studio Suite
$135 + taxes for One Bedroom Suite
$145 + taxes for Two Bedroom Suite
Parking: included
Wi-Fi: Free

Reservation portal for PDL Visitors

WYNDHAM PITTSBURGH UNIVERSITY CENTER
100 Lytton Avenue
Pittsburgh, PA 15213
412-682-6200 - Reservations
412-681-4749 - Fax

Problems Contact: Sue Moser – 412-682-6200
Ask for CMU rate
Inquire


Reservation deadline: TBA
Transportation
Once in Oakland, most of the hotels we have listed above have shuttle transportation to CMU available. Please request that you be dropped off on the west end of Frew Street, then refer to the attached map for directions to the Singleton Room in Roberts Hall.
*NEW INFO* - Hotel Shuttle/Transport page to print
Taking the shuttle from your Oakland area hotel to and from CMU
Getting to and from the Airport
Please make your own transportation arrangements from the airport to your hotel / CMU. There are several options available for getting to and from the airport:
Rental Car: Available at the airport from all the major companies (not really recommended for the Retreat since we depart CMU to go to a resort that is about two hours away).
Taxi Service (~$60 each way)
Yellow Cab: 412-321-8100
Cab Service: 412-855-4484
Limousine Service
The following driver services cost ~$65 dollars one way (includes tip). The drivers do accept credit card payments. If you want Karen to arrange this for you, please make sure she has your full flight info (date / time / flight number) and your cell phone number.

Airport Sedan Service (Larry Waite)
Advance reservations are required, ~$60 each way
Contact Larry Waite, 412-401-LIMO (5466)

Gateway Limo
Rates: ~$60 from the airport to Downtown, Oakland, Shadyside, and Squirrel Hill (sedan). The rate for a van, a 14 passenger vehicle, is $78.00 per hour. Mention CMU when making a reservation.
Call the office at 412-782-5800 (phones answered 24/7) for reservations.
Email: amydemeri@comcast.net

Harper's Transportation
Harper1084@verizon.net - 412-531-1940

Classy Cab – SUV cabs
Phone 412-322-5080
Fax 412-322-5085
Supershuttle - book online
Shared van - $35.55 each way, $9 per additional passenger
Private van - $115.55 each way
Executive sedan - $73 each way
Airport Shuttle (PATransit 28X - Airport Flyer) ($2.75 each way, exact change)
Leaves CMU from the corner of Forbes and Morewood Avenues every 20 minutes starting at 4:25 a.m., last shuttle at 10:55 p.m. Shuttle leaves the airport from the arrivals level, door #6, starting at 5:20 a.m. approximately every 30 minutes.
Getting to CMU from Your Hotel
Most of the hotels have shuttle transportation to CMU available. This is NOT a direct shuttle to CMU and will make other stops in Oakland based on customer needs. If you do choose to use the hotel shuttle, please request that you be dropped off at the RMCIC Building.
MAPS & DIRECTIONS
Directions to the Singleton Room in Roberts Hall
The Singleton Room, surrounded by the Seagate Technology Atrium, is located on the fourth floor of Roberts Engineering Hall (REH). REH is behind and connected to Hamerschlag Hall and may be approached from two directions:
Through Hamerschlag Hall
Enter the front doors of Hamerschlag Hall from the campus mall. (Hamerschlag is the building with the cupola on top at the west end of campus.) Proceed to the staircase or the elevator at the end of HH first floor. Go down to level "B." Follow signs to REH. You will enter the Atrium next to Singleton.
From outside REH
Pass in front of Scaife Hall and follow the sidewalk on to the covered walkway above the service road. Proceed through the door into REH. The Singleton room will be on your left.
Campus Maps
Parking
While we assume most of you will use the shuttle PDL will provide, there are parking machines on Schenley Drive, Frew Street, and Tech Street which are all very near to Roberts Hall. They accept currency and credit cards; it is $3.00 / hour and uses your license plate as the timing factor.There is also parking in the RMCIC Building Garage - P19 on the general campus map (closest) or the East Campus Garage - P7 on the map (further walk but more familiar to some of our guests). Some past attendees have also used the parking lot at the nearby Carnegie Museum (also shown on the map).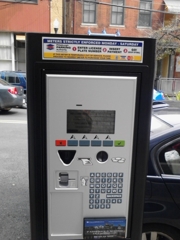 If you park in one of the above mentioned areas, particularly Schenley Drive, Frew Street, or Tech Street, please see this map for the Roberts Hall entry location/drop-off point or this map of campus.
Other Handy Maps
Bedford Springs Resort
Bedford Springs Resort is a four season, historically significant destination located on 2,200-acres. It began welcoming guests over 200 years ago when the mineral springs of Bedford Springs, PA became known as a source of rejuvenation. The resort is approximately 90 miles east of Pittsburgh.
CMU Retreat attendees and guests will travel to Bedford Springs on Monday, October 26 and return Wednesday, October 28. We will provide bus transportation to the resort on Monday and back to Pittsburgh and the Pittsburgh International airport on Wednesday afternoon.
Participants of the retreat will be members of the PDL Consortium and invited guests. Information on becoming a member of the consortium is available from Karen Lindenfelser, Bill Courtright (PDL Executive Director), or Greg Ganger (PDL Director).
Directions to Bedford Omni Springs Resort
Your Bedford Springs Hotel Room
Your hotel room at Bedford Springs will not be individually available. Karen will be given all of the room keys, and they will be distributed during our breaks. We should arrive at the resort in time to start our first talk at the resort around 2 pm on Monday. Our talks will be held in the Colonnade Ballroom (right up the main stairs in the lobby) and our first meal will be held around 6 or 6:30 PM in the Eisenhower Room which is one flight up from the meeting room.
Contacts:

PDL Administrative Manager
School of Computer Science
Carnegie Mellon University
4720 Forbes Avenue - CIC 2209
PITTSBURGH, PA 15213-3891
VOICE: (412)268-6716
FAX: (412)268-3010


Director, Parallel Data Laboratory
Electrical and Computer Engineering
Carnegie Mellon University
4720 Forbes Avenue - CIC 2208
PITTSBURGH, PA 15213-3891
VOICE: (412)268-1297
FAX: (412)268-6779


PDL Executive Director
Carnegie Mellon University
4720 Forbes Avenue - CIC 2210
PITTSBURGH, PA 15213-3891
VOICE: (412) 268-5485
FAX: (412)268-3010