SELF-* STORAGE SYSTEMS

THIS PAGE HAS MOVED. PLEASE UPDATE YOUR BOOKMARKS. IF YOU ARE NOT REDIRECTED IN A FEW SECONDS, PLEASE CLICK HERE TO GO TO OUR NEW PAGE.
[ Overview | White Paper | People | Publications ]
Related Work:
[ ABLE | Data Center Observatory (DCO) | Continuous Reorganization | Freeblock Scheduling ]
[ Problem Analysis | Performance insulation (Argon) | Survivable Storage (PASIS) ]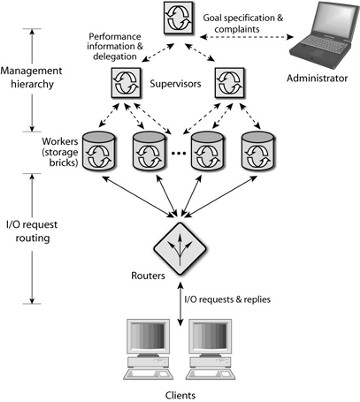 Self-*1 Overview
Human administration of storage systems is a large and growing issue in modern IT infrastructures. We are exploring new storage architectures that integrate automated management functions and simplify the human administrative task. Self-* storage systems are self-configuring, self-organizing, self-tuning, self-healing, self-managing systems of storage bricks. Borrowing organizational ideas from corporate structure and technologies from AI and control systems, self-* storage should simplify storage administration, reduce system cost, increase system robustness, and simplify system construction.
___
1pronounced "self-star", the name is a play on the UNIX shell wildcard character, '*'. It captures many recent buzzwords in a single meta-buzzword.


White Paper
Self-* Storage: Brick-based Storage with Automated Administration. Gregory R. Ganger, John D. Strunk, Andrew J. Klosterman. Published as Carnegie Mellon University Technical Report, CMU-CS-03-178,
August 2003.
Abstract / PDF [553K]
People
FACULTY
STAFF
STUDENTS
Publications
Acknowledgements
This material is based upon work supported by the National Science Foundation under Grant No. 0326453. Any opinions, findings, and conclusions or recommendations expressed in this material are those of the author(s) and do not necessarily reflect the views of the National Science Foundation.

We thank the members and companies of the PDL Consortium: American Power Conversion, Data Domain, Inc., EMC Corporation, Facebook, Google, Hewlett-Packard Labs, Hitachi, IBM, Intel Corporation, LSI, Microsoft Research, NetApp, Inc., Oracle Corporation, Seagate Technology, Sun Microsystems, Symantec Corporation and VMware, Inc. for their interest, insights, feedback, and support.
---
self-* = self-star = self-managing, self-tuning, self-organizing, self configuring, self-healing, ...