2014
February 2014
YinzCam Goes to the Superbowl!
Associate Professor of Electrical and Computer Engineering Priya Narasimhan, founder of YinzCam, and engineering students tested multi-camera instant replays to smartphones at the Super Bowl last Sunday. YinzCam, which creates mobile sports apps that allow fans to stay in touch with their favorite teams 24/7 by providing them with real-time stats, multimedia, streaming radio, social-media and more, has seen more than 7 million downloads of their products. The company's mobile-video technology is also being deployed within sports venues throughout the country to allow fans to watch instant replays, live cameras (including the NFL RedZone channel) on their smartphones, tablets or touchscreen computers. Read more about YinzCam at http://www.yinzcam.com/.
8.5x11 News, February 6, Vol. 24, No. 28
February 2014
Lorrie Cranor International Science & Engineering Visualization Challenge
People's Choice Award Winner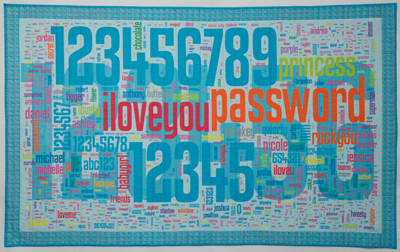 Lorrie Cranor, an associate professor of computer science and engineering and public policy, and director of the CyLab Usable Privacy and Security Laboratory, was recently recognized as one of 18 winners, honorable mentions and people's choice awardees from the International Science & Engineering Visualization Challenge. The contest, which is jointly run by the National Science Foundation (NSF) and the journal Science, exemplifies the old axiom, "a picture is worth a thousand wards." It celebrates the long tradition of using various types of illustrations to communicate the complexities of science, engineering and technology for education and journalistic purposes when words aren't enough. Cranor's quilt "Security Blanket" (pictured above) took honorable mention in the illustration category. While on sabbatical during the 2012-2013 academic year she worked on visualizing security and privacy concepts through art as a fellow of the Frank-Ratchye STUDIO for Creative Inquiry. Read more about Cranor's quilting.
8.5x11 News, February 6, Vol. 24, No. 28
2013
November 2013
Garth Gibson Elected IEEE Fellow
We are pleased to announce that Garth Gibson has been selected as an IEEE Fellow. Garth was selected for contributions to the performance and reliability of transformative storage systems. Becoming an IEEE Fellow is a distinction reserved for select IEEE members whose extraordinary accomplishments in any of the IEEE fields of interest are deemed fitting of this prestigious grade elevation.
More recent PDL news here.