PERSPECTIVE: A Home Storage Solution
Contact: Greg Ganger, Brandon Salmon
The home provides a new and challenging environment for data management, with both the number of storage-enhanced devices and the amount/variety of content growing rapidly. Moreover, devices in the home are extremely heterogeneous in computational power, storage capacity, and usage model. We need much simpler and more automated data management approaches to allow users to manage data in this new environment, sharing information across devices, finding information when needed, handling reliability issues, and so on. Perspective is a distributed data management system for home/consumer storage architected around the concept of a view. A view is a description of data about which a device is interested, published to other Perspective devices. Views provide a solid building block for efficient consistency management, inter-device search, device departure and arrival handling, and data protection. Within Perspective, we are also exploring automated data distribution approaches, effective search mechanisms, and security management for home/consumer storage.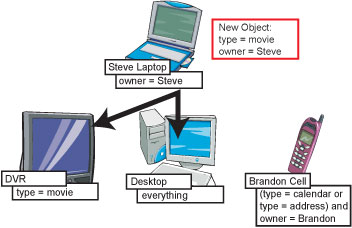 This diagram shows how views facilitate object update or addition. In this case, Steve's laptop has received a new movie (perhaps from the Internet). Because it holds all the views in the system, it knows that both the desktop and DVR need to see update messages for this new object. Note that the cell phone's view does not include the object and, therefore, does not need to see the update.
People
FACULTY
Lujo Bauer
Lorrie Cranor
Greg Ganger

STAFF
GRAD STUDENTS
Hardik Doshi
Jared Goerner
Yuan Liang
Michelle Mazurek
Prerak Mehta
Brandon Salmon
Zoheb Shivani

INDUSTRY COLLABORATORS
Lily Mummert (Intel)
Publications
Acknowledgements
We thank the members and companies of the PDL Consortium: Actifio, American Power Conversion, EMC Corporation, Facebook, Google, Hewlett-Packard Labs, Hitachi, Huawei Technologies Co., Intel Corporation, Microsoft Research, NEC Laboratories, NetApp, Inc., Oracle Corporation, Panasas, Samsung Information Systems America, Seagate Technology, Symantec Corporation, VMware, Inc., and Western Digital for their interest, insights, feedback, and support.